80% of children feel it is their responsibility to protect the planet
80% of children believe it is their responsibility to look after the environment, according to a new survey conducted by the National Grid. 
A further 83% said they think adults need to do more to protect the planet, with a third saying they have ideas on how to tackle the climate crisis.
62% of young people also said that the climate crisis is one of the things that they feel most passionate about.
When they grow up, the children said they will recycle more (53%), use less plastic (50%), switch off lights (49%), walk or cycle instead of drive (37%) and buy an electric car (35%).
In light of these findings, National Grid has launched a new competition, calling on children aged 7-15 to share 200 words on what they would do to look after the planet if they were in charge of the country.
The winners will be invited to create a five-minute speech which will be presented at COP26 in front of world leaders.
The winners will also secure a £5,000 grant for their school to put towards initiatives focused on climate change and science, technology, engineering, and mathematics (STEM).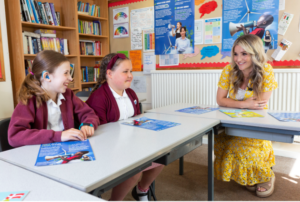 David Wright, chief engineer of National Grid and one of the judges of the competition said: 'Climate change impacts us all, but it is our children's futures that will be most affected by the decisions we make today so it's vital that their voices are heard.
'They have a strong understanding of the causes of climate change such as the fuel we put into our cars or the type of energy we use to heat our homes and schools.
'And as National Grid is at the centre of efforts to get Great Britain to net zero, I'm excited to hear from young people all over the country – they have inspiring ideas and they really can be the energy problem-solvers of tomorrow.'
COP26 president Alok Sharma added: 'The role of young people in tackling climate change, one of the greatest challenges of our generation, will be crucial.
'It requires action from each of us on an individual and collective basis and I'm keen to hear from young people across the country, through National Grid's Voices for a Green Future competition. I want them to raise their voices so that their interests are heard loud and clear at COP26.'
Photo Credit – supplied by National Grid