UK is unprepared to deal with climate crisis
The UK is already struggling to keep up with climate change impacts, government advisors warn. 
The UK is already experiencing widespread changes to the climate; the average land temperature has risen by around 1.2°C from pre-industrial levels, UK sea levels have risen by 16cm since 1900 and episodes of extreme heat are becoming more frequent.
In a comprehensive assessment led by the Climate change Committee (CCC), the report warns that the nation is already failing to keep pace with the impact of a warming planet.
Since the CCC's last assessment 5 years ago, over 570,000 new homes have been built that are not resilient to future high temperatures and since 2018 over 4,000 heat-related deaths have been recorded in England.
The authors warn that the longer action is delayed to address these risks, the higher the costs the government and the public will face.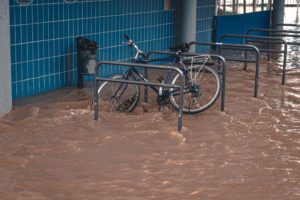 Based on this, the CCC has identified 8 priority risk areas that need immediate attention, at the latest in the next two years:
Risks to the viability and diversity of terrestrial and freshwater habitats and species from multiple hazards
Risks to soil health from increased flooding and drought
Risks to natural carbon stores and sequestration from multiple hazards, leading to increased emissions
Risks to crops, livestock and commercial trees from multiple climate hazards
Risks to supply of food, goods and vital services due to climate-related collapse of supply chains and distribution networks
Risks to people and the economy from climate-related failure of the power system
Risks to human health, wellbeing and productivity from increased exposure to heat in homes and other buildings
Multiple risks to the UK from climate change impacts overseas
Baroness Brown, chair of the Adaptation Committee said: 'The severity of the risks we face must not be underestimated. These risks will not disappear as the world moves to Net Zero; many of them are already locked in.
'By better understanding and preparing for the coming changes, the UK can prosper, protecting its people, its economy, and its natural environment. A detailed, effective action plan that prepares the UK for climate change is now essential and needed urgently."
Friends of the Earth's head of policy Mike Childs commented on the report: 'The government's response to the accelerating impacts of the climate emergency is totally inadequate.
'Ensuring that the nation's housing stock is equipped for dealing with the climate challenges of the 21st century has to be a top priority. With more than one in five homes already at risk of overheating and with hotter summers on the way, a major retrofit programme is urgently required to keep our homes warm in the winter and cool in the summer.
'The government should immediately ensure that all new homes are built to the highest environmental standards and make the future-proofing of our existing housing stock a major focus of its forthcoming comprehensive spending review.'
Photo by Mika Baumeister