Climate change may lead to global malnutrition
Millions of people around the world could face an increased risk of malnutrition as climate change threatens their local fisheries.
In the study, which was led by the University of Lancaster, the researchers examined more than 800 fish species in more than 157 countries.
They found that climate change is the most pervasive threat to the supply of essential micronutrients from marine fish catches.
They also found that countries whose fisheries micronutrient sources are at risk from climate change tend to be tropical nations and include East Asian and Pacific countries.
This vulnerability is particularly concerning given the fact that acute dietary deficiencies in calcium, iron, zinc and vitamin A are particularly prevalent in the tropics.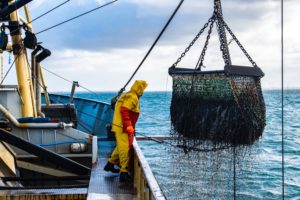 These tropical countries are also less resilient to disruptions of their fisheries by climate change because they strongly rely on fisheries to support their national economies and their population's diets and have limited societal capacity to adapt.
Dr Eva Maire, of Lancaster University and lead author of the study, said: 'As climate change and over-fishing are significant and growing pressures on global fish stocks, it is essential for the dietary requirements of millions of people to know the extent that these pressures will have on the availability of micronutrients in our seas in the future.
'We have shown that climate change is the most pervasive threat to the supply of vital micronutrients for many countries around the world, and in particular in the tropics.'
Professor William Cheung, co-author from the University of British Columbia, added: 'As well as highlighting the growing threat of climate change to the food security of millions of people, our study also offers hope for the future.
'Armed with nutritional information about different fish species, many countries have the capacity to adapt their fisheries policies to target different more resilient fish species. By doing this then these nations can ensure a more reliable supply of micronutrients for their people.'
Photo by Paul Einerhand