Researchers to investigate the benefits of nature to humans
Three new research projects will help to improve our understanding of the functions and services provided by the UK's treescapes.
The UK's woodlands, forests and hedgerows have a key role to play in carbon reduction and biodiversity recovery and they also enhance health and wellbeing and provide a source of cultural inspiration.
The three projects will look at the value and resilience of the UK's treescapes and will provide essential models, tools and datasets to help inform future decision-making around their expansion.
The first project 'Connected Treescapes,' will evaluate how treescapes affect mental health, wellbeing and cultural and heritage value.
The project – led by the University of York – aims to inform future treescape management decisions, providing advice on where to enhance, restore and plant new trees to increase public benefits.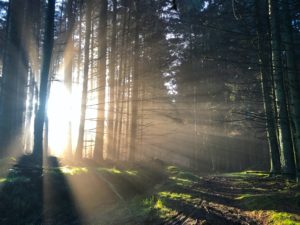 The second project called 'NewLEAF' will evaluate options for using the natural genetic variation within tree species to keep pace with expected changes in climate as well as with pests and diseases.
Dr Julia Touza, who is leading this project said: 'The project takes an interdisciplinary approach to answering how quickly trees can genetically adapt to change and whether or not human intervention is needed to accelerate adaptation, and if so, how.'
The final project called 'Branching out' aims to develop new ways of mapping, predicting, and communicating the social and cultural values of trees so local authorities can make robust, evidence-based decisions around urban treescapes.
Researchers will develop detailed maps of social and cultural value in the three cities' urban treescapes using methods that include historic mapping and citizen science.
Co-lead Dr Debbie Maxwell said: 'This research brings together a wide range of disciplines including environmental and social sciences, the arts and humanities and urban planning and design. It's a great opportunity to bring together knowledge to develop new and exciting ways to support our treescapes.'
Photo by Marty Finney