Assistant Director – Environment & Commercial Services
Full Time
Salary: Up to £72k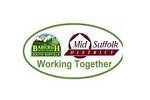 Website Babergh & Mid Suffolk
Shaping our Future
Assistant Director l Up to £72k
Environment & Commercial Services
Based: Ipswich
Babergh and Mid Suffolk have consistently been voted amongst the best places to live in the country. But as well as being connected by location and quality of life, our two councils are also joined together by an integrated approach to service delivery with a single, shared 'hub' in Ipswich. It is a unique way of working; it is an award-winning model; and it has created the foundation for you to play an instrumental role in helping our communities to grow through strategic, sustainable and innovative thinking.
Quality of work, quality of life, along with a generous relocation package and flexible working patterns.
How many more reasons do you need?
Visit www.BMS-AD.co.uk to find out more or contact Steve Guest at Solace in Business for a confidential discussion on 020 7976 3311.
Closing date: 28 January 2019