Scotland is in a prime position to lead green growth
Scotland is in a strong position to drive green economic growth, according to the UK's Green Growth Index.
The index, which was developed by Oxford Economics for the Lloyds Banking Group found that Scotland is leading the way on green economic growth with a score of 80.6.
According to the research, this is due to a number of factors. Notably, Scotland already has a strong base of 21,000 existing green jobs in sectors such as onshore and offshore wind and hydroelectric power.
Relative to its population, Scotland also has the largest number of higher education students studying green-related subjects such as engineering, technology, building and agriculture.
Following on from Scotland, Wales came in second place, with a score of 63.5.
Despite this relatively high score, the researchers have warned that 7% of Welsh jobs are in high emitting sectors and therefore investment will be needed to re-orientate infrastructure towards cleaner technologies.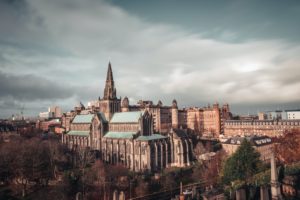 Overall, London was the region with the lowest growth index score at 36.5, this is largely due to the fact it is a service-based economy.
London also has the lowest renewable energy capacity across the UK due to its limited options for wind or tidal turbines and less residential roof space for solar installations.
Jonas Persson, managing director of sustainability and ESG Finance, at Lloyds Banking Group, said: 'The research shows clear signs that the UK's green economy is starting to take shape. Every nation and region has its own story, but each has an important role to play in transitioning to a greener economy.
'In line with this research, we are committed to supporting regional regeneration to ensure no part of the UK is left behind by the transition. We will mobilise support across our business help to make sure every nation and region can seize the huge opportunities that the green economy represents.
'With the United Nations Climate Change Conference (COP26) taking place in Glasgow in just a few months, all eyes are on the UK when it comes to adopting greener ways of living and doing business. While COP26 is a moment of international cooperation, it also prompts us to consider how our domestic economy can thrive in the future.'
Photo by Craig McKay