Researchers plan to capture carbon from the sea
A new project will use natural processes to remove carbon dioxide (CO2) from the seawater. 
Like capturing the CO2 bubbles in a fizzy drink, the technology uses natural processes and renewable energy to remove carbon, which in turn lets the seawater take more CO2 out of the atmosphere.
The SeaCURE technology will temporarily make the seawater more acidic, which helps to get the CO2 out. The CO2-depleted water is then released back into the sea, where it takes up more CO2 from the air.
The only input SeaCURE, needs apart from seawater, is electricity – and the team will use the wind to power their process.
Thanks to funding from the Net Zero Innovation Portfolio, run by the UK government's Department for Business, Energy & Industrial Strategy, the researchers will design a pilot plant to remove at least 100 tonnes of CO2 per year.
The team will first design a pilot plant to remove at least 100 tonnes of CO2 a year.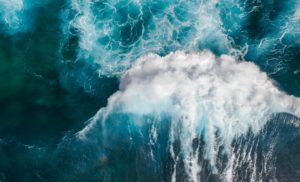 Dr Salman Masoudi Soltani, from the University of Brunel chemical engineering department, said: 'We will exploit our existing understanding of conventional amine-based absorption carbon capture processes to concentrate the low-concentration gas stream from the 'CO2 removal' unit.
'The lower inlet gas temperature (and its variation throughout the year) is expected to impact the capture efficiency and the energy demand of the process – an aspect investigated in this project.'
Dr Paul Halloran from the University of Exeter added: 'Our approach sidesteps this challenge by allowing the ocean's vast surface area to do the job for us, tipping the natural process of CO2 exchange between the atmosphere and ocean in our favour.'
'This is about combining and scaling up proven technology and solving problems.
'By optimising each stage of this process, we hope to develop a model that will make this commercially viable on a large scale.'
Photo credit – Michael Olsen