Quarter of schools in areas with toxic levels of air pollution
A new school year has begun and research from City Hall says that more than 3.1m children in England are returning to schools in areas with toxic levels of air pollution.
The research found that children in London are four times as likely to go to a school where air pollution exceeds WHO limits compared to the rest of England, but still a quarter of schools in the rest of England are exposed to similarly high levels.
Sara Alsen, chief purpose officer for air purification expert Blueair said: 'So much needs to be done still to address that fact that school children, in a developed country no less, are exposed to air pollution levels that far exceed the World Health Organization's recommended limits.
'We welcome the research from City Hall, but it highlights that we are still some way off from affording our children the ability to breathe clean air as a fundamental right.
'In the last year and a half, Covid-19 may have overtaken air pollution as a health concern, but this new research puts it back in the spotlight.'
Several schools in England are taking matters into their own hands. A cohort of six schools in geographically diverse areas will return to the classroom this month with high performing air purifiers switched on to improve air quality for their staff and pupils.
The schools include:
Netley Primary School & Centre for Autism, London Borough of Camden
Christopher Hatton Primary School, London Borough of Camden
Grestone Academy, Birmingham
Swavesy Primary School, Cambridge
Manor Primary School, Reading
Parson Street Primary School, South Bristol, following campaigning from their young activist
Christopher Hatton Primary School and Netley Primary School and Centre for Autism participated in real-world trials with Blueair following the Mayor of London's School Air Quality Audit Programme.
More than three years on they continue to use air purifiers, owing to a reduction in absenteeism and sick leave to the units.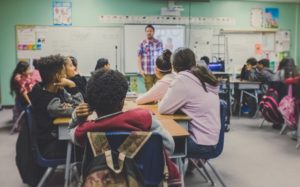 Alan Murphy, air quality leader at Netley said: 'Our teachers are clearly appreciating the importance of clean air and the role the Blueair units play in helping to achieve it.
'Polluted air is shown to adversely impact on health and wellbeing, especially for children. It is a major focus for Netley due to HS2 construction and the congested roads around our school.
'Monitoring has shown very high levels of air pollution inside many classrooms at Netley. The Blueair air purifiers installed have dramatically improved the air quality internally.'
The addition of schools in Birmingham, Reading, Cambridge, and Bristol will allow Blueair to research the impact that improved air quality will have in classrooms in various different regions.
The air pollution levels in classrooms will be monitored during the school year to demonstrate the effectiveness of air purifiers on reducing toxic air.
In addition to its work with schools, Blueair has also partnered with environmental charity and campaigning group Global Action Plan to fight for a child's right to breathe clean air through the Freedom to breathe campaign.
Larissa Lockwood, Director of Clean Air at GAP said: 'The Freedom to breathe campaign empowers young people from London and other cities across the world to claim their right to a life essential, clean air.
'Clean air is not currently stipulated as a child's right by the UN Convention on the Rights of the Child.
'Through an education programme about the importance of clean air, the campaign equips young people with the knowledge and confidence to demand change as well as take actions that will minimise their exposure to common sources of harmful pollution.'
Photo Credit – NeONBRAND