Project will remove microplastics from SSSI
A new project will help to remove microplastics from Site of Special Scientific Interest.
Chessel Bay nature reserve in Southampton has been drastically polluted with tiny plastic pellets called 'nurdles.' Nurdles are produced when creating most plastic products and when spilt into waterways they can become prolific pollutants.
In a bid to resolve this, non-profit organisation Nurdle has designed a new prototype machine that can remove the microplastics.
The machine works by vacuuming up the material, sieving and separating it from organics and then removing the nurdles.
The project has received funding from the Environment Agency, who have issued advice and guidance to manufacturers to prevent further pellet loss into the environment.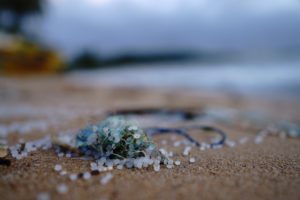 As part of the project, the University of Southampton will be studying the positive and negative impacts of the clean-up on invertebrates and plant life. If successful, this project will pave the way for the full site clean-up next year.
Leader of Southampton City Council, Cllr Daniel Fitzhenry, said: 'I applaud the groundbreaking and innovative work being done by the Environment Agency and Nurdle to clean up this plastic pollution from a Site of Special Scientific Interest here in Southampton.
'These tiny plastic pellets threaten the health and wellbeing of the bird and marine life in Chessel Bay and elsewhere, and once spilt they are exceptionally difficult to clear up without causing further damage to the environment. While it is fantastic news that it looks as though this machine will be able to effectively clear up after these spills, we need to ensure that they're not happening in the first place.'
University of Southampton microplastic researcher Dr Malcolm Hudson added: 'The build-up of plastic on the nature reserve on the Itchen is an absolute disgrace, and could be very damaging to protected wildlife. The University is very pleased to be able to help on this important project which could improve the health of the local coastal environment enormously.'
Photo by Sören Funk