New PPE is plastic-free and low-carbon
New plastic-free PPE produces 85% less carbon than popular alternatives.
The environmental impact of the growing use of PPE has been of increasing concern, according to one report 376 million face masks could be entering landfill every single month.
In a bid to tackle this issue, Lancashire based start-up PPECO secured funding from Innovate UK to produce plastic-free PPE.
The visors are entirely paper-based with a shield that is made from cellulose diacetate, a wood pulp-based material.
Dr Laura Giles from Lancaster University carried out a life cycle analysis of the product, this revealed its carbon footprint to be 85% less than competitor products.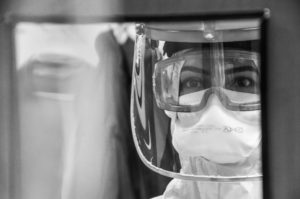 Dr Giles said: 'I'm really passionate about reducing the amount of plastic we use and throw away. The opportunity offered the chance to apply my skills in the real world and carry out useful research for an environmentally conscious company.
'The focus of my work was to calculate the carbon footprint of the visor's life cycle and compare with current, highly available face shields used in UK organisations like the NHS.'
Founder of PPECO Richard Taylor added: 'It's been a whirlwind from initially winning the grant and delivering the product in six months to the ability to produce up to half a million visors a week.
'My background is industrial design consulting and packaging, and it was from my business connections and experience that I saw the opportunity to create a visor that wasn't reliant on plastic. I then talked with suppliers and companies I've worked with previously and they were keen to get on board.
'We developed what we felt was an environmentally-friendly face visor for a number of reasons; one it has no plastic in it and two it's also made from recyclable, eco-friendly materials. We were keen to prove the low environmental footprint with facts and figures.'
Photo by Ömer Y?ld?z