New creative programme will teach children about the climate crisis
A new art and music programme is helping to teach children about the climate crisis.
The annual Hammersmith & Fulham Summer in the City programme offers free food and fun activities and events for children and young people.
Graduates from the Royal College of Art have been leading drop-in workshops for children and young people, asking them to explore what a cleaner and greener city might look like.
Participants can use a range of creative mediums, including writing, drawing, printmaking and badge making.
The English Chamber Orchestra with support from The Barrett Foundation has also been presenting a series of music workshops, allowing children to explore instruments they may have never played before.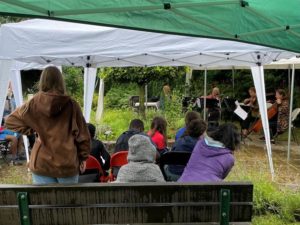 'This is the recycling symbol of the earth,' said Dulguun, age 7 and a half, 'If we don't recycle and throw away it will just be a waste. If we recycle we can make old things into new things.'
Retaj age 11 years old added: 'Since we are in a hot condition we need to take care of the environment and take care of the plants.
'The more we do this, it prevents us from climate change which is not good for us. I'd like to see clean air for us to breathe in, animals free and the earth how it looks like before.'
In related news, 80% of children believe it is their responsibility to look after the environment, according to a new survey conducted by the National Grid.
A further 83% said they think adults need to do more to protect the planet, with a third saying they have ideas on how to tackle the climate crisis.
When they grow up, the children said they will recycle more (53%), use less plastic (50%), switch off lights (49%), walk or cycle instead of drive (37%) and buy an electric car (35%).
Photo Credit – Hammersmith & Fulham Council