Local leadership is crucial in climate change challenge
Councils are in a prime position to support the UK's net-zero ambitions, says the Local Government Association (LGA). 
90% of councils have already declared a climate emergency and many have been devising and implementing new ways of reducing their carbon footprints.
For example, Birmingham City Council is due to adopt The Birmingham Transport Plan in October 2021, which will see Birmingham's road network transformed to encourage people to walk, cycle and take public transport instead of the private car.
Oxford City Council and its wholly-owned company, ODS, introduced the first purpose-built, fully integrated electric refuse collection vehicle this year, providing emission-free waste collection service and Waltham Forest Council retrofitted sheltered housing schemes by developing a solar-powered system that can generate and store enough electricity to power the lifts and LED lighting in communal areas, both day and night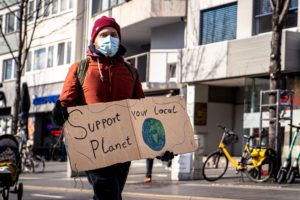 Cllr David Renard, the environment spokesperson for the LGA, said: 'Councils understand the urgent need to tackle climate change and have been making active changes in their communities to benefit the environment.
'Councils are intrinsic to transitioning our places and empowering our communities and businesses to a net-zero future. They are well-placed to translate national climate ambitions into transformative action on the ground.
'By working in partnership with government, councils can continue to shape their local areas to help achieve net-zero carbon emissions by 2050 or sooner.'
Despite their prime position to tackle the climate crisis, a report published by Green Alliance last December revealed that councils lack the skills and funding to achieve action on their climate plans.
Green Alliance interviewed 12 local authorities, who spoke anonymously about the difficulties they are facing in meeting their climate commitments.
One council representative said: 'Around £1.5 billion is what's needed, which is all of our discretionary spends between now and 2030. If we spent only on this and we did nothing else, then we'd be able to fund it.'
Another representative said: 'Our ambition was to be green but, in practice, it was getting more and more difficult because we were having to cut all the non-statutory services.'
Photo credit Mika Baumeister