Fair access to nature should be set in law
The Wildlife Trust is calling for an updated planning system that levels up people's access to nature.
Evidence shows that almost half the population are spending more time outside than before the pandemic. However, access to nature is deeply unequal.
In their new report, the trust is therefore calling on the newly named Department for Levelling Up, Housing and Communities to ensure that the planning system improves lives by levelling up access to nature.
The Accessible Natural Greenspace Standards that The Wildlife Trusts want to become law includes targets such as requiring natural greenspace to be at least two hectares in size within 300 metres of every home.
The report also calls on the government to protect land reclaimed for nature in the upcoming Planning Bill. If the Government is to reach its target of at least 30% of land for nature by 2030, the report says that a new designation – Wildbelt – is essential for protecting new land.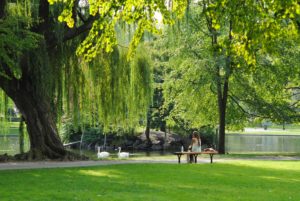 The Wildlife Trust also states that all government departments should consider how they can contribute to nature's recovery, making it a legal requirement for planning authorities to consider Local Nature Recovery Strategies when making planning decisions.
Craig Bennett, chief executive of The Wildlife Trusts, says: 'We know that time spent in beautiful, natural places boosts our health and wellbeing – the pandemic has shown us how important this is.
'But too many households do not have access to nearby wild places. The sad truth is that the most deprived areas have nine times less green space than the wealthiest – and poorer areas are where people's health is the worst.
'We want to see accessible natural greenspace standards put into law and not relegated to being just 'advice' for local authorities. This way, we can be sure that by 2030, everyone can enjoy wild areas within five minutes of where they live and work – to spend time with family, or to be alone, relaxing in nature and listening to birdsong.'
Photo by Josephine Baran