Edinburgh announces plans to improve green space
Edinburgh City Council has approved plans to spend over £4m improving parks, green spaces and cemeteries across the capital.
In a report published last week, the council surveyed parks, green spaces and cemetery structures across the city in order to ensure that the investment is allocated where the need is greatest.
The Cllrs have since given approval to projects that have been identified as priority category 1 (within one year) and category 2 (within one or two years).
The works include making improvements to walls, fences, gates, paths, roads, drainage, bridges and tunnels.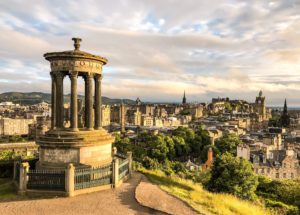 Culture and communities convener Cllr Donald Wilson said: 'In Edinburgh, we're fortunate to have nearly 200 parks, including 34 with green flag status, recreational green spaces and cemeteries to visit across the city and we want to make sure that they all remain accessible, safe, sustainable and of course open to the public for generations to come.
'Through this capital investment programme, we will be able to make immediate and important improvements to the places most in need.
'Funding will be used to help with landslips, mend walls and fences and improve accessibility. I'm delighted that we are able to progress with this work and following further detailed surveys will aim to ensure the spread of investment across the city.'
Amy McNeese-Meechan, culture and communities vice convener Cllr added: 'We've seen over the past year just how important our parks and green spaces continue to be and it's so important that we invest in them – for us, now and for future generations.
'We want to make sure Edinburgh remains the beautiful green city that it is and this commitment will bring those most in need of urgent investment back to looking their best. I'm excited that work can get underway and these surveys give us a plan for the next stages, which will help keep us focused as we make improvements throughout the city.'
Photo by Kate Bielinski