Climate change is worsening respiratory health
Climate change is a major threat to respiratory health, according to a new report published by the Economist Intelligence Unit (EIU).
The report warns that extreme weather events such as soaring temperatures, forest fires, storms and desertification are all leading to dramatically poorer air quality.
Deaths attributable to heatwaves are expected to rise significantly this century. One analysis has predicted that there will be more than twice as many heat-related respiratory hospital admissions between 2021 and 2050.
With warmer temperatures, flowering seasons are lasting longer, creating more pollen that is more allergenic and remains in the air for longer. Higher and fluctuating air temperatures can also increase the incidence and severity of respiratory infections.
Higher temperatures are also already leading to more premature deaths from ozone pollution. Ozone is a key contributor to mortality from respiratory disease and responsible for an estimated 20,600 premature deaths in Europe in 2018 alone.
Ground-level ozone is also formed through atmospheric reactions between nitrogen oxides, volatile organic compounds and methane in the presence of sunlight. It is set to rise as climate change creates more of the atmospheric conditions favourable to its creation.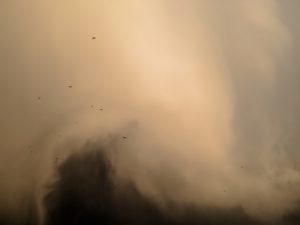 Ugo Di Francesco, CEO of the Chiesi Group who sponsored the report said: 'Protecting patient health and the environment is not a matter of compromise for us. This report reinforces our intent to not only treat the symptoms of the crisis through our products but also to address the root causes, by constantly improving our own environmental and social impact.
'Policymakers need to prioritise respiratory health in the fight against climate change, and companies need to take meaningful, measurable and independently verified actions. Only then can we encourage and track progress towards a greener, healthier society.'
An expert panel worked with the EIU on the report's conclusions have made a series of recommendations:
Ensure that climate change policies include improvements to public health as a key target, especially
preventing the impact on lung health
Involve all relevant stakeholders in climate change policies
Focus on improving air quality, particularly in urban areas where most people live1
Reduce emissions and tackle climate change in all sectors
Raise awareness among the healthcare community of the need for urgent action on climate change1
Conduct further research to increase our understanding of the impact of climate change and air quality on lung health
Photo by Artin Bakhan